by David Clough
The On Animals North American book tour is complete! In numbers: 31 days, lectures and seminars at 21 venues, combined audience of over 1000, 9 institutional food policy meetings, well over 100 books distributed.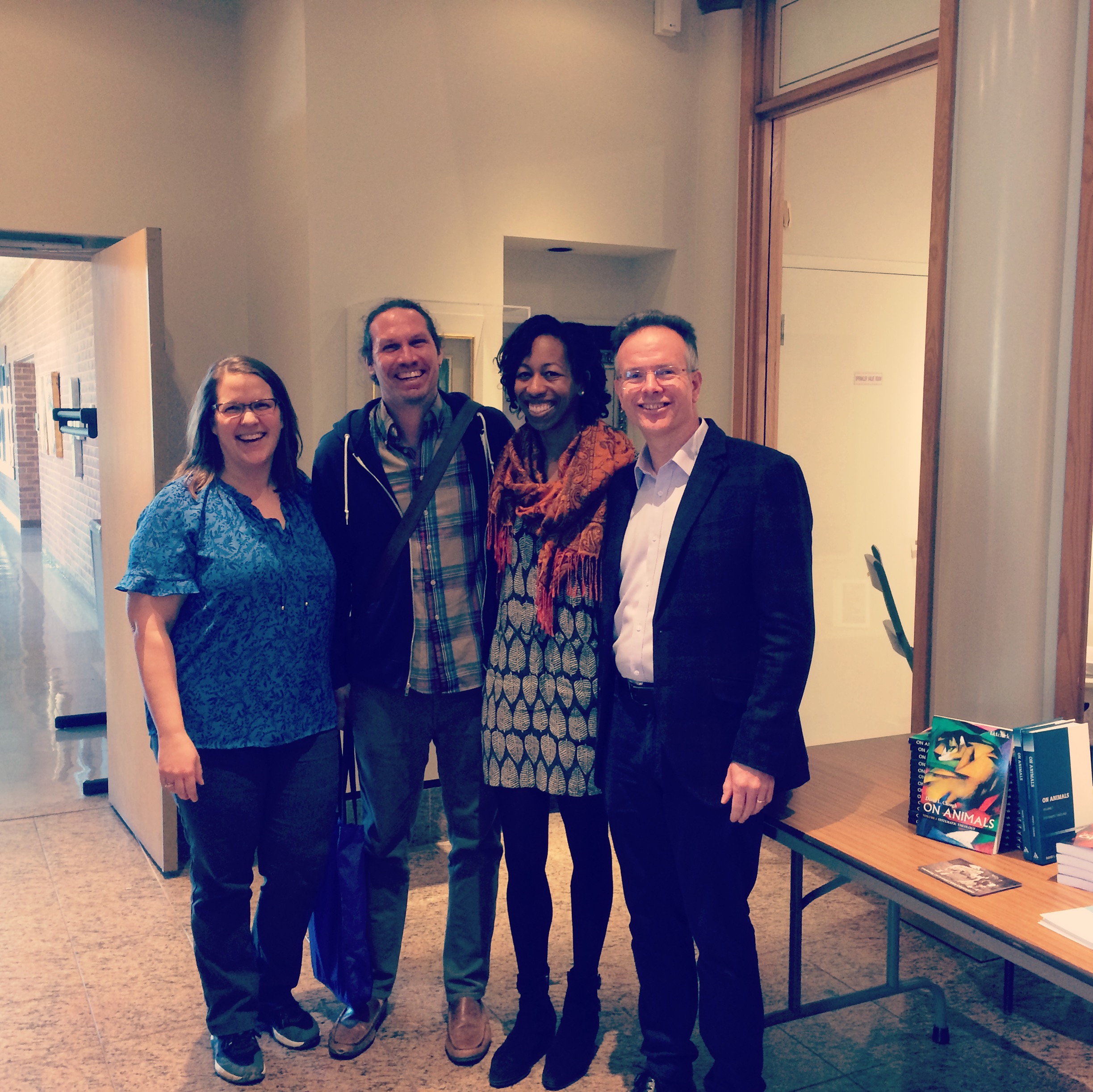 I'm most grateful to hosts for the warm welcome received at each stop: Yale Divinity School, Boston University School of Theology, Harvard Divinity School, Harvard Law School, Christ Episcopal Church in Rockville MD, Georgetown University, Wesley Theological Seminary, University of Virginia, High Point University, Duke Divinity School, Wheaton College, Anabaptist Mennonite Biblical Seminary, Notre Dame University, Santa Clara University, Fuller Theological Seminary, Azusa Pacific University, University of San Diego, Regent College Vancouver, Vancouver Humane Society, and University of Victoria. Thanks too to Ilana Braverman for her expert coordination of the tour, and my CreatureKind co-director Sarah Withrow King who co-directed and accompanied.
Remarkably, in every venue, across a very wide range of theological perspectives and convictions, audiences responded enthusiastically to the argument that Christians have strong faith-based reasons to reduce consumption of animal products and move to higher welfare sourcing, and showed willingness to make practical changes in response. This gives me a great deal of hope that CreatureKind can be successful in catalysing change so that it becomes routine for Christian institutions to attend to their consumption of animal products as a faith issue. If you know of institutions interested in getting help from CreatureKind to engage in this area, please get in touch.
Excitingly, the positive response to this tour has helped confirm plans for a follow-up speaking tour of Australia and New Zealand in June 2019, which will take me to Brisbane, Auckland, Dunedin, Wellington, Melbourne, Canberra, Sydney, and possibly Hobart. If you live in Australia or New Zealand and would like to assist with book tour events there (set-up, sign-up, book donations), please send us a message with the subject line: Book Tour Help.
If you're interested in seeing or sharing the lecture, here's the recording from Notre Dame. Please do share widely!